On a road trip from Maryland to Vermont, I knew I had to stop for recharge. When looking for the right place, I realized that Villa Signor, who I've been following for so long on social media, was on the route in Norwich, CT. Lucky for me, one of their three villas was available! 
The moment I arrived at Villa Signor, I could already feel this was the perfect choice. The surroundings were beautiful, you could hear the sound of water coming from the pond and the birds singing.The experience only gets better as soon as you open the door of the Romantic Spa Retreat villa. The house fragrance transported me to a spa. As soon as you step in, it's hard to not notice the door that takes you to the patio. I love nature, so it was natural for me to go straight to the patio and appreciate the view of the pond and the trails. 
The cozy villa had a few snacks and water, perfect to munch after the long drive. Now I was ready to head out and explore!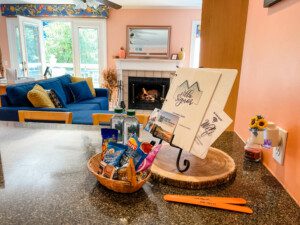 Did you know Connecticut has one of the most exciting and fastest-growing wine regions in the country, as stated in CT Wine? I did not! It houses the CT Wine Trail Passport program, which features 12 farm wineries that offer amazing experiences. Since my stay was short, I knew this had to be on my list of must-do.  
Priam Vineyards was my first choice. A comfortable 27-min drive from Villa Signor takes you to a beautiful 40-acre vineyard with a winery tasting bar, tasting room and wine patio. It is open all year long! I tried their award-winning wines, and they did not disappoint! My favorite? The Salmon River White, a clean & crisp wine that has won 11 International medals. I had to bring a bottle home. You have 3 options of tasting ranging from $10-20, and with each you get a wine glass to take with you! Plan your CT Wine Trail trip here, and make sure you stop by Priam Vineyards.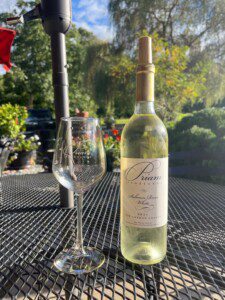 If I could choose a place to be born in my next life it would be Italy. I can eat pasta, burrata and wine every day of my life. So naturally, I had to try Ballo for dinner, located in Mohegan Sun. I ordered a classic: Rigatoni. It has been one of my favorite dishes I've eaten at an Italian restaurant. The hype is real, and well-deserved. The server was very attentive and a wine connoisseur, or should I say "intenditore"? However, I decided I should try a cocktail and went with another classic, the bellini. It was squisito.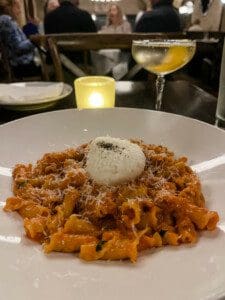 Overall, I was extremely satisfied with the experience, and even had some leftovers I packed with me. 
Time to go back and enjoy a good night's sleep. If you're anything like me, you're often worried about the mattress at the rental… well fear not. The bed was super comfortable and the temperature of the room was just right. I slept like a happy baby. The amenities at the villa include a bathtub & shower combo, Public Goods body products, bathrobe – which made me feel extra special, and a few extra essentials, such as deodorant and shaving blades in case you forgot to pack. 
Waking up in the morning was a treat! I brewed my coffee and enjoyed it on the patio, listening to the sound of the water and birds chirping. Nature really helps to unwind and recharge. Villa Signor was my perfect pit stop – I wished I had stayed longer. Give yourself enough time to discover the surroundings and truly embrace the beautiful community in Norwich. 
Did you know you can now book direct? Head over to

www.stayinct.com

to get the best rates, dedicated customer service, and a very special discount code for being part of the Trip101 community. Use the code

TRIP101

to get a

10%

discount on your stay.